Henleys specialise in installing bespoke and discreet safe room protection. We convert bedrooms, en-suites, bathrooms and wardrobes into safe areas to keep you secure should an intruder enter your home. Safe rooms, often called panic rooms, provide you and your loved ones a place to retreat to until help arrives. Henleys are able to provide safe room kits to new-build projects or we can convert your existing rooms into safe rooms.

It's estimated that, in the UK, a householder is attacked by a violent burglar every 30 minutes
sources: Daily Mail and The Telegraph

Safe rooms are fast becoming the preferred, modern home security system for protection against intruders that force their way into your home to attack you. Our clients include previous victims of an aggravated burglary, celebrities and many high & ultra high net worth individuals.

Our safe rooms explained
For most safe rooms there are 3 main areas of security:
Walls, floor and ceiling (physical security)
Doors and windows (physical security)
Alarms and camera systems (detection services)
Henleys specialise in providing the high security physical protection products such as the walls, flooring, ceilings and security doors. We offer 3 protection levels to choose from to suit your individual requirements. These are explained further below.

Safe room protection levels for security walling, flooring and ceilings

Security walling – Medium protection
We reinforce walling with structural stud work, install Level 2 security steelwork and finish with 18mm plyboard, ready to plasterboard. This is designed to protect against intruders armed with basic, medium-sized tools and is an excellent product for those clients looking for additional security protection.
Security walling – High protection
We add Henleys' Level 4 steel security walling to the walls and generally Level 2 security walling to the floor and ceiling as the threat of attack to these areas is less likely. Henleys' Level 4 High security walling is designed to protect against attack from multiple heavy duty tools including grinders. Henleys' walling is designed to protect against intruders that have pre-planned an attack and are looking to obtain certain items or threaten, assault and even kidnap people. This is suitable for clients such as those who are classed as a 'high value target'. This is for people who, if the perpetrators gain access to them, have a very high amount of wealth to lose such as jewellery, watches, cars and generally a large amount of cash spread across multiple safes within the home.

Security walling – Bullet resistant protection
We add bullet resistant panels to walls, floors, doors and ceilings. Bullet resistant (BR) panels are manufactured to protect against a range of fire arms. We offer BR protection ranging from 9mm handguns through to 357 & 44 Magnum and shotgun protection. Clients wishing to add BR protection to their home can often overlook the weight that a bulletproof room can add, this is of particular importance to 1st and 2nd floor installations when homes are made of standard construction brick walls and timber floors. To combat this we offer a lightweight and heavyweight version for different applications. You can easily contact us to discuss your options.
Security door protection levels
We have 3 door ranges offering different protection levels. Please note that you can change the style and finish of all our doors, these are just examples:
Viking door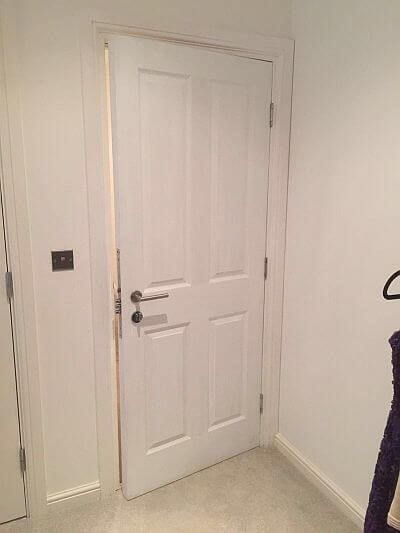 Door match service available
Hidden steel core
Hidden steel frame
6 point locking system
Standard reinforcement
No bullet resistance rating
Spartan door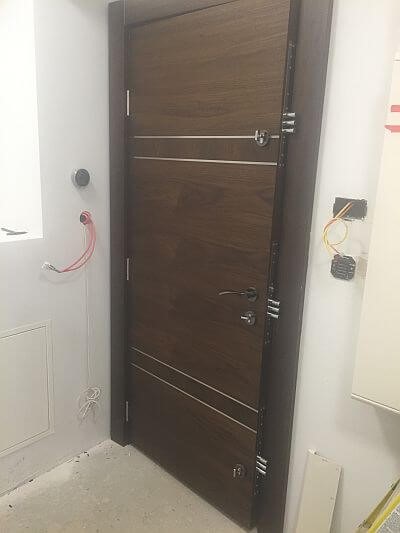 Door match service available
Hidden steel core
Hidden steel frame
12 point locking system
Upgraded reinforcement
No bullet resistance rating
Titan door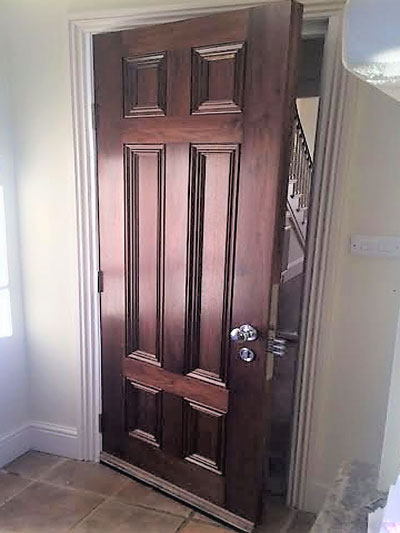 Door match service available
Hidden steel core
Hidden steel frame
12 point locking system
Upgraded reinforcement
Bullet resistance up to 9mm handgun, 357 & 44 Magnum
How much does a safe room cost?
Each of our customers have different requirements so we can't offer an accurate price without knowing a few details first. However, if you let us know your basic specifications then we can definitely give you a guideline price.
Contact our London, Birmingham or Manchester office (numbers at the bottom of the page) or use the form below to let us briefly know your requirements and we'll get in touch.
Quick safe room enquiry form