At Henleys, we understand that the choice of security doors from different companies can be overwhelming. Let's help a little to make your decision…
No steel on show
One of our unique selling points is that our doors have no visible steel core on show from either side. Talking to our customers, they wanted something that looks like a standard door, not some ugly slab of steel that resembles a bank vault door! Our doors are stylish and can be made to look like any other door in your house. Here is a cutaway of one of our beautiful wooden doors showing the hidden steel core:
Small door thicknesses
Our doors are not significantly thicker than most standard high-quality doors but they are definitely much, much stronger. The average thickness for our internal security door is just 52mm (2.05″) and for an external security door just 62mm (2.44″). We can achieve this because of our extremely strong steel core that runs throughout the door.
Door matching service
We offer a door matching service so that your new security door matches existing ones in your property. We can even cater for properties that are in strict conservation areas.
High security locking systems
Our doors are strong and so we have to make sure our locks are equally strong. We only fit the best, multi-point locking systems and door hardware to complement our high strength internals.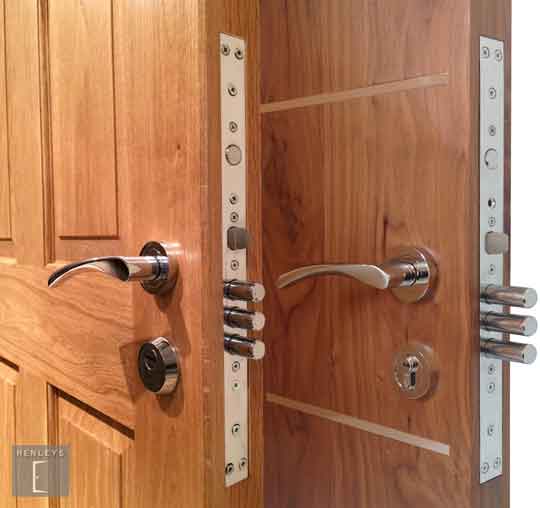 Manufactured in the UK
Henleys doors are manufactured right here in the UK, not bought in from cheap manufacturing plants abroad. We directly monitor and control quality during manufacture so that you get a better end product.
Tested and certified
We have achieved some very high standards for our doors during controlled testing, that's why the Association of Chief Police Officers (ACPO) are happy to endorse us! Read more about our accreditation here
Fast installation
We are proud to be able to achieve an average time between initial survey and installation of just 4 to 6 weeks. That includes manufacture! Many of our competitors quote much longer for this which can make it difficult to coordinate door fitting with your renovation or build projects.
Emergency service
We can also offer an emergency security door supply-and-fit service for those who require immediate assistance. Please enquire for more details.
We hope that these points help you to see how unique our product is and allow you to place your confidence in Henleys. Please call us now or drop an enquiry through our contact form here