Henleys Security Doors manufacture & install beautiful residential internal & external wooden security doors with a concealed solid steel core. We can also create complete safe rooms to protect you and your family or business.
We are a UK based security door company but we can supply our bespoke internal and external security doors worldwide. We can also fit our products across the whole of the UK and we are currently expanding to provide worldwide installation, contact us to see if we can fit in your country.
We pride ourselves on having many years of experience within the property sector, manufacturing and installing our own fully tested home security products. Our bespoke manufacturing service creates beautiful solutions for both interior and exterior security doors, whether standard, oversized or undersized is required. We offer doors with our matched wood finish service and our superb, fully concealed steel core.
See our internal doors page or See our external doors page

Our safe room and security doors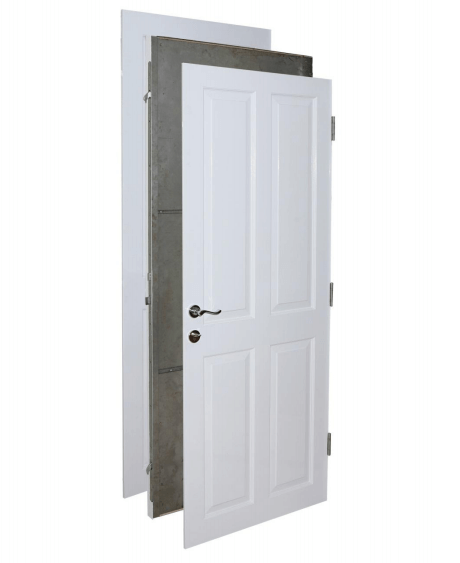 Take a look at a sectional view of our doors and you'll see why they are so special. This image clearly shows our unique steel core running the length and width of the door with your choice of exterior panels either side. Once assembled and fitted our doors look as good as any other with no inner steel on show. Ask other companies if they can achieve the same. These can be fitted to our safe rooms, bedrooms, closets, bathrooms and we can fit secure external doors too.
What We Do
With traditional home security easily bypassed and house alarms no longer attended to in many areas by the police, there needs to be a better solution. By creating discreet safe rooms within the home, we can add another better layer of protection. We do this by installing a high security, steel reinforced door with a discreet wooden outer shell that turns any room within the home into a safe room that can protect you and your family. We can also create complete safe rooms with protection against firearms. We also offer our impressive bulletproof panelling to installers.
Why We Do It
At Henleys we work with many victims that have come face to face with an aggressive and violent perpetrator in their home, so we understand how it feels to be a victim of an aggravated burglary. Our goal is to reduce the number of victims that are faced with their attackers and reduce the number of people who feel vulnerable in their own homes, either before or in the aftermath of an aggravated burglary. Henleys' burglar proof doors ensure that every home owner and their family have precious time that is needed to call for help in safety. We're UK based, we manufacture and install our own product and our doors are tested to the stringent British Standard BS STS202
Our sales team and installers
Your home is your place of sanctuary and you can be comfortable in the knowledge that all of our sales team and our installers are respectful of this. They are extremely professional and courteous, all have undergone full security checks and are committed to delivering excellent customer service.
Read more about Why to choose Henleys over the competition or Contact us now for a friendly chat and a no-obligation quotation.