Henleys work with many interior designers to produce bespoke doors that blend with their clients' homes while still functioning as a high security door. We can replicate almost any internal door with our high security door which has a hidden steel core, covered with a bespoke timber finish of your choice. The chosen location for our doors is usually the bedroom as this keeps your wealthy, security conscious clients safe while they sleep and their valuables safe while they are away from home.
How we do it
First of all we discuss your client's requirements and provide you with an approximate quotation, then we'll arrange to meet you at the property to carry out a full survey of the door's location and to make the notes on the finer details required to match the adjacent doors. This survey enables us to produce a made-to-measure door that can have the finish of your choice. From there, we will keep you informed of our manufacturing times and then arrange a date for installation.
Stylish entrance solutions
Our door finishes can include high quality established or exotic hardwoods through to modern sustainable materials such as eco-friendly Accoya. The one pictured below during a recent fitting uses Accoya to great effect having a stunning black satin 40% sheen finish for extra impact.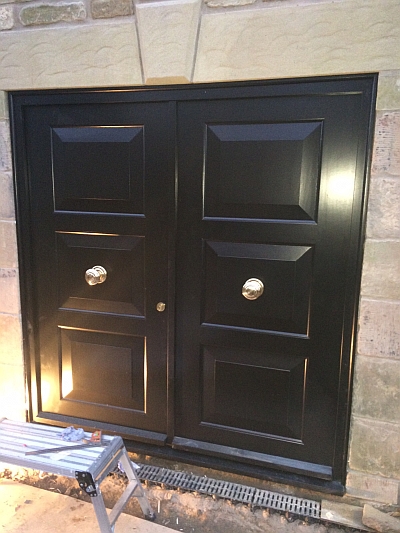 Door accents
We know that the final look of a room can be finished off with coordinating accents such as metal inlays and recessed panels. These details can be added on either side or both sides to match the corresponding room.
Each one of our doors still benefits from the tried, trusted (and very-well-hidden!) Henleys Steel Core. A large selection of door furniture is also available.
Benefits for you as a designer
If you are recommending a company's products to your client, you want to be sure that the product performs. Where normal doors are generally off-the-shelf solutions Henleys' bespoke security doors have the following advantages:
Our doors are completely bespoke so you get what you and your client want
We offer paint finishes, wood finishes, material finishes and more!
Our doors are tested to stringent security standards by independent testing bodies
Our doors are British manufactured, not bought in from abroad
Our steel core is HIDDEN, so our doors appear to be the same as the other doors within the property
Couple that with our friendly service, speedy turnaround and great feedback you can be sure that we'll carry out a professional and discreet installation for you that you and your client will be extremely pleased with.
Get in touch now to see how we can help you and your clients to achieve that perfect look.